Celebrities are just like us, but you know, more famous but you probably didn't know that we share the same faith with these guys.
Chuck Norris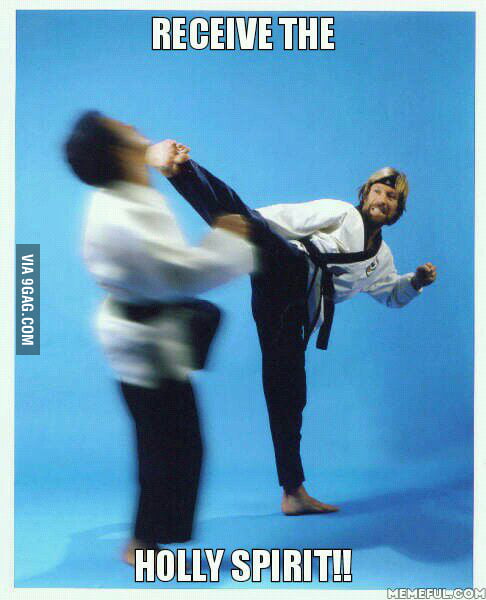 "Real men do live for Christ."-Chuck Norris
The memes get old, but this guy never does. We bet you didn't know that this tough guy is a devout Christian. In 2004 he wrote a memoir about his spiritual journey entitled "Against All Odds".  According to the Huffington Post, he wrote this for B&H, the publishing arm of the Southern Baptist Convention. After this writing stint, Chuck Norris became a co-writer for two Christian western novels entitled: The Justice Riders and A Threat to Justice. The publisher describes these as a "heroic action tale of good versus evil, with elements of faith and romance." He knows who the real boss is:
"In the history of this planet, there has only been one real Superman. It's not me. There was a man whose tears could cure cancer or any other disease, including the real cause of all diseases – sin."
Tom Hanks
"I realize how important and beautiful it is to have the opportunity to go to church and to reflect on the important questions that Orthodox Christianity asks you and the answers that it offers."-Tom Hanks
Believers all over the world might have been slightly bothered or even outrage by his role in Da Vinci Code, but Tom Hanks is actually a believer. He has a complicated history when it comes to religion and he does not talk about this much. Tom Hanks confirmed that he attends church regularly and is a Christian in several interviews. He's also known for his good heart and acts of kindness towards others. Thank God his attitude is just as great as his acting.
David Oyelowo
 "I think it's vital to have something outside your acting to keep you rooted in the real world, and help you fill the vacuum. If you have nothing else, it can be unhealthy. For me being a Christian has been invaluable: it simply means acting isn't the centre of my life." – David Oyelowo
The highlight of his career so far is when he played Dr. Martin Luther King Jr. in the biographical drama film Selma (2014). This in-demand Hollywood actor chose to be a Christian at age 16 and he never looked back ever since.  He tries to praise Christ through his craft.
Shia Labeouf
Contrary to popular belief, Shia Labeouf is not an actual cannibal (or at least we think so, just kidding). His first name is even derived from the Hebrew shai Yah which means "gift of God". This actor and performance artist has been through a lot. In 2014 he said in an interview, "I found God doing Fury. I became a Christian man, and not in a fucking bullshit way – in a very real way. I could have just said the prayers that were on the page. But it was a real thing that really saved me".
Mickey Rooney
It's a mad, mad, mad, mad world but with God's saving grace Mickey Rooney was able to find some solace. May this Hollywood legend rest in peace.
Memes For Jesus got weekly giveaways! Want a free shirt? Check this out!